Our Business
Be original and creative to sell products, getting rid of conventional ideas and biases.
With the whole industry progressing toward the new age, the circumstances for the development to seek for innovation are changing radically.
We give full scope to our originality, convert it into tangible forms, and promote the sales by ourselves. This is our basic policy. We are taking on a constant challenge to develop new products that meet our costumers' needs by using our wisdom, experience, and advanced techniques that we've cultivated in the area of expertise since the company formation.
The driving forces of our challenge are firstly having flexible and non-biased ideas which breaks out of the paradigm, and secondly the vigor to pursue infinite possibilities.
In the assembly factory, we aim to produce high-quality merchandise, combining all our creative mind. We are determined to further contribute to our costumers' prosperity by providing our custom-made system and business operation full of attentive care.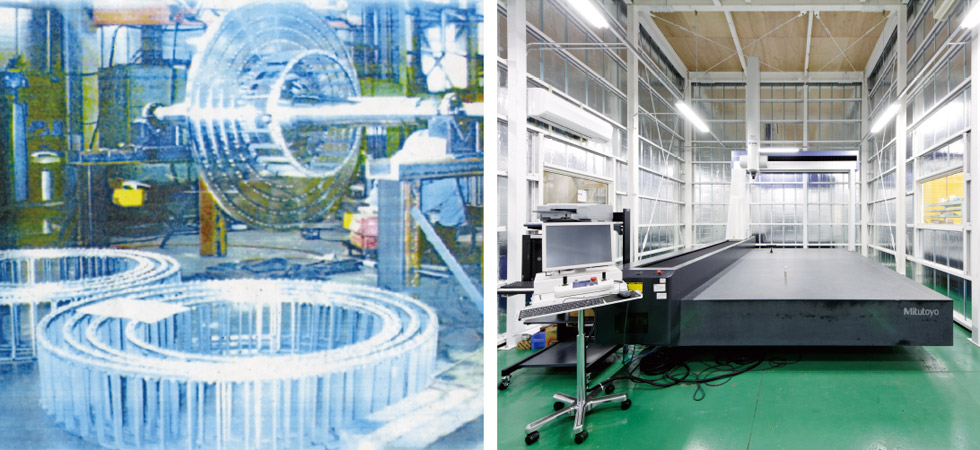 Space research-related business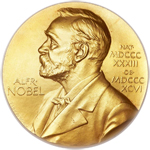 Professor Takaaki Kajita of the Institute of Cosmic Ray Research, received The Nobel Prize in Physics 2015. He observed neutrinos at a facility in Japan called Super-Kamiokande that's situated deep underground. Super-Kamiokande is the large water Cherenkov detector. The construction of the First-Kamiokande was started in 1983. We have participated in the construction of the First-Kamiokande.
Our Facilities
The integrated production line with the custom-made system.
We will make best use of our creativity not just for our prosperity but also for our customers and the society in general while answering the needs of the age. We are very proud of our advanced fabrication methods and the strict quality control that is implemented from the point of selecting materials to the point of processing and assembly. With these key feature, as a leading medium-sized manufacturer in the country, we will keep offering our development power globally with a view to the next generation. It is our biggest pleasure to give service by offering reliable skills endorsed with rich sense of creativity to bring about bright future.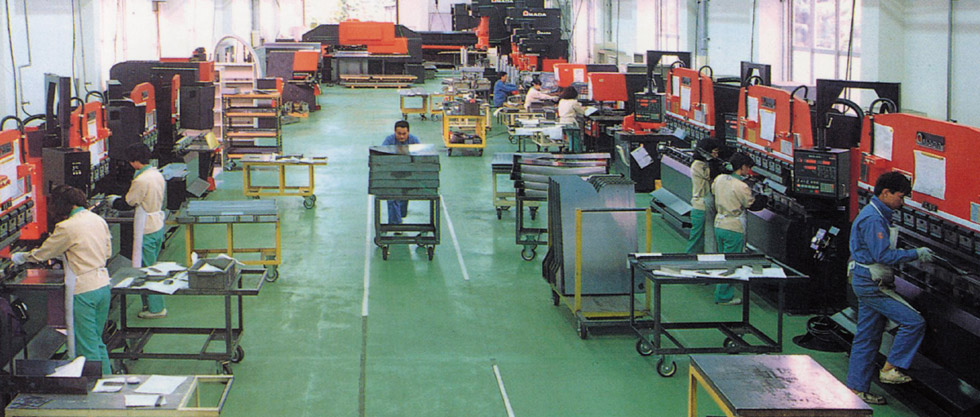 Principal equipment
Machine plant
Horizontal machining center / Vertical machining center / Double column machining center (five faces) / Horizontal boring machine / Horizontal machining center / CNC combined lathe / Vertical lathe / Overhead traveling crane / Automatic program CATIA
Plate working plant
Hydraulic press / Bending roller (hydraulic) / Laser beam machine / Semiautomatic welding machine / AC welding machine / Overhead traveling crane / Metalworking machine for shape steel
Assembly plant
Overhead traveling crane / Double column crane / Forklift
Precision sheet-metal plant
Automatic programming machine / Turret punch press / Hydraulic shearing machine / Corner shearing machine / Torque pack press / Set press / Press brake / Tapping machine / Semiautomatic welding machine / Spot welding machine
Company Profile
Principal business : Manufacture of large industrial machinery
Name of company : Hokuriku Seiki Co., Ltd.
Foundation : April, 1959
[Main office plant]
103 Dozaka, Uozu City, Toyama Prefecture
TEL : +81-765-32-8231 FAX : +81-765-32-8963
[Tokyo Office]
4-6-7 Higashi-Ueno, Taito-ku, Tokyo
TEL : +81-3-3847-2332
[Omi Office]
3040 Omi, Itoigawa City, Niigata Prefecture
TEL : +81-25-562-4481 FAX: +81-25-562-4174
Capital : ¥48 million
Building area : 12,000m³
No. of employees : 118
Principal equipment :
Double pole machining center, boring and milling machine, machining center, etc.
Business line :
Intermediate conveying system, various automated system, snow-removal equipment,
construction components, industrial plant equipment, safety and sound-proof equipment,various equipment maintenance.
Certification/qualification :
Contractor's license by the Governor of Toyama Prefecture, No. 19-1535 (steel and machinery)
Quality management system ISO9001 registered (JSAQ-595)
Designated as a medium to small management model enterprise in Toyama Prefecture.
History
| | |
| --- | --- |
| April, 1959 | Founded as a private enterprise, "Taniguchi Tekko" |
| March, 1961 | Name changed to "Hokuriku Seiki Kogyosho" |
| August, 1971 | Founded as "Hokuriku Seiki" |
| September, 1975 | Omi Office opened |
| August, 1978 | Main office removed from Kichijima, Uozu City to Dozaka |
| July, 1981 | Large machinery plant completed |
| April, 1988 | Omi office renamed to be Omi branch in line with expansion of business |
| May, 1991 | Precision sheet metal plant completed |
| February, 2005 | First assembly plant (936m²) completed |
| August, 2006 | Second assembly plant (2,500m²) completed |
| October, 2013 | Assembly plant (500m²) |
Awards
| | |
| --- | --- |
| September, 1989 | Industrial Service prize (Governor of Toyama Prefecture) |
| April, 1992 | Special Service prize of 40th anniversary of municipalization / Uozu City |
| July, 1993 | "Progress Achievement prize" in the national safety week (Minister of Labor) |
| September, 1995 | Monthly Award for Promotion of Disabled Person's Employment (Minister of Labor) |
| April, 2007 | Rationalization Corporate Model for Medium to Small Corporations in Toyama Pref. |
| November, 2012 | First Medium & Small Corporations "Genki Toyama" prise of Toyama T.Ishi, Governor of Toyama Prefecture. |
| February, 2013 | "Monozukuri" Highest Technical prize, Toyama Prefecture. |